A Rustic Wedding Reception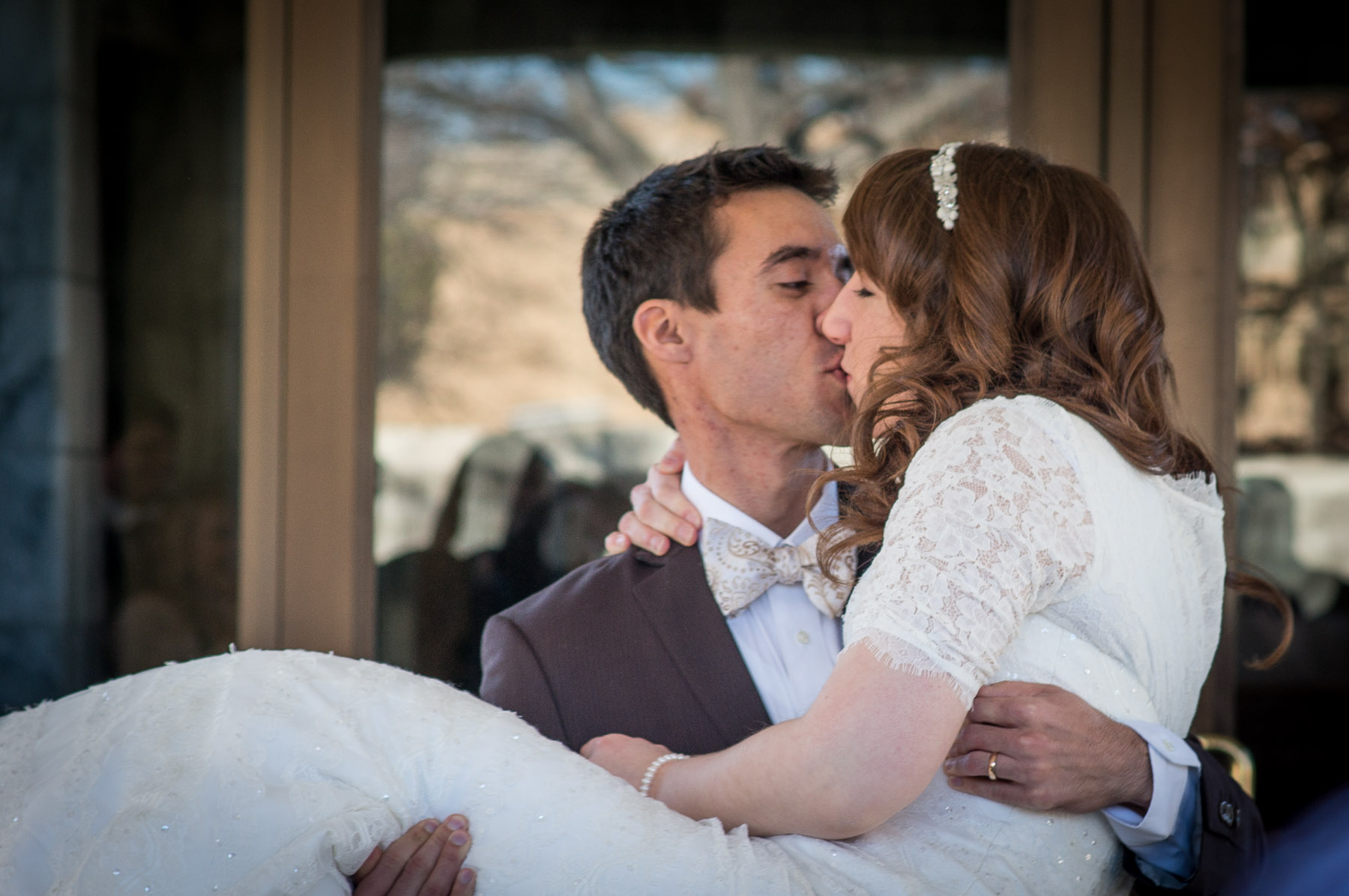 My Texas Sister's daughter got married last week and, as I have only one son, I was more than excited to help out. This was an LDS (Mormon) wedding, and they're a little different than most. While this was a typical LDS wedding, I will be bold and say that the reception was above average and would make any Pinterest follower proud.
The wedding was held in the Dallas Texas LDS Temple and without going into a long explanation, Temples are different from LDS churches and specific requirements must be met to be married in and/or attend a Temple wedding. And…there's a limited amount of room. So…most wedding guests don't see the actual "wedding" take place. Also, many times the bride and groom are from different states, so a typical LDS reception tends to be an Open House. A come and go reception. One in her hometown and one in his. The couple stands in a receiving line, guests come in…"congratulations, congratulations", eat a bit and head out.
First off, a couple of pictures of the bride and groom. Here are Dan & Meg coming out of the Temple after just being married. Her smile says it all.
Then, Dan swept Meg off her feet and gave her a big smooch! Or she smooched him…
On to the Reception!
Let the guests know the schedule for the evening and then stick to it. Recently married and Meg's new sister-in-law, Haylee, wrote up the schedule on a chalkboard. Super-cute! And if you are reading this and are LDS, you can see the different events that aren't typically done at an Open House-type reception.
The reception had a woodsy, rustic theme. As the guests arrived they were asked to sign the "Guestbook"….
…which was really on the wall!
LDS gyms have these covered bulletin-board-type-fabric-covered-sections that jut out a couple inches from the wall. They are usually a nightmare to decorate, because there are usually several around the room and, honestly, they just look goofy when decorated.I covered this one with an off-white burlap and trimmed the top with a gold grosgrain ribbon. I made sure it was lighter than the walls, so that you knew there was something special going on. I then attached thinner ribbon (clothesline style) across the board. A little scrap of burlap and a button hot glued on the end covered staples.
As the guests arrived, they were asked to sign their name and leave a message of good wishes or advice for the bride and groom on 2.5" x 4" cards. A tray keeps all the guestbook supplies together and organized rather than spread out and messy across the table.
After writing their message, the guests then hung their message on the board by attaching the card to the ribbon with tiny clothespins. At the end of the night, the cards are gathered up for the bride and groom.
A Family Table.The addition of a family table was another atypical idea. Three long tables were set up in front of the stage. On the stage were Christmas trees of varying heights with tiny white lights. Under the trees, cut wood was arranged and accented with...horse apples! The cut wood really made the theme. Thanks so much to the man who provided and cut it!
A little extra light scattered on the family table with battery-operated tea lights in frosted jelly jars. Yes, we frosted them ourselves. Thanks Logan and Haylee!
Cut wood stacked in a gold basket with horse apples Texas Sister picked up on the side of the road!
The wood was really lovely and I love the texture and pop of color from the horse apples.
Due to recent ice storms, Texas Sister was lucky to find lots of fresh greenery piled up on the side of the road. She seriously kept pruning shears in her car to cut from the piles that home owners had already cut down and left. We were lucky to find some fresh the day before the wedding!
Tables had either clear vases filled with fresh cranberries or clear hurricanes with pine cones.
For a little sparkle, toss in gold berry picks and a few walnuts spray-painted metallic gold.
White tablecloths with burlap runners. Table layouts fine-tuned by Las Vegas Sister. She just has a knack for it.
Centerpiece montage:
Recruit Adult Helpers to Prep and Serve.Texas Sister could NOT have enjoyed this reception without the wonderful helpers in the kitchen. Get adults rather that youth to help because…well…they'll usually stay around to help clean-up. Our helpers were wonderful! Also, adults know the drill. Unexpected things happen, like the plugs for the 8 crockpots don't work and you're scrambling around to get chili on the stove. (Oh yes, it did happen.)Two kinds of Chili were on the menu. A regular Beef Chili and my White Chicken Chili (which isn't really mine, but it's one of our favorites. Will post the recipes next time I make it.) Thanks to Mike & Michelle for the Chili sign!
And…12 dozen cornbread muffins! (Hint: Krusteaz brand Honey Cornbread Mix…delish!)
Food:
Beef chili or chicken chili? Cheese? Sour Cream? Muffin? Tortilla Chips? Bam, bam here's your chili with your toppings in a bowl and on a plate with your muffin. Fast and smooth.
Drink station:
Spiced cider or hot chocolate? Marshmallows or crushed Andes Mints in your hot chocolate? (Let me tell you, I'll forever after have Andes Mints in my hot chocolate.)
A separate table with a lamp for better light and special pencils to mark your favorite passage in a new set of scriptures for the couple. The other end of the table below.
Dancing!It's true, not many LDS receptions have dancing. First dance as husband and wife (although there may have been a "happy dance" behind the scenes.) Song was "Better Together" by Jack Johnson. Photo swiped off Becca Shin's Facebook page. Thanks Becca!
Pie instead of cake you say?! Yep. Our mom made this ruffled tablecloth and then she stitched the corners of the burlap topper to "fit" it to the table and included a button for detail. Absolutely adorable! The cut wood is at varying heights with the pies placed on top. Las Vegas Sister did another beautiful arrangement!
Is this apple pie beautiful or what?!
 "Dan & Meg" pie topper. And silly me, I didn't know the white rim came off.
This is the pie that the bride and groom cut. Such a tiny piece! And, no, there was no pie in the face.
A gift of flannel, rice-filled hand warmers from the bride and groom.
Handmade tags printed on and cut from card stock and tied with an organza ribbon. One warmer was floral and the other houndstooth. One of each make them "Better Together".
Back of the tags with heating instructions. Word to the wise: only 30 seconds!
A Special Send-Off.Let the bride and groom leave before the guests. Guests were provided with sparklers. Sparklers only last about 15 seconds, so the bride and groom need to be in place BEFORE the sparklers are lit.
It was a little chaotic, but there were still a few sparklers burning as the bride and groom left.
Congratulations Dan & Meg! We wish you every happiness your hearts desire.