20 Minutes a Day: Success or Failure?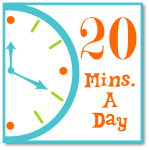 I told my husband they other day that sometimes it's really hard to come up with a title for a blog post that's meaningful and, well, a little humorous. He asked me what the post was about and I replied, "My 20 minutes this week." His idea for my title was "Week 1: Failure". Offended, I said that although I wasn't home Tuesday or Wednesday evenings, I actually had completed a couple of 20 minute sessions. "I did two 20 minute sessions on Monday and I'm counting that as two times!" As he looked at me disapprovingly, I new my progress was less than stellar.Yes, I did get about an hour in Monday and about the same today. Fridays are just exhausting and errands filled up Saturday. I have no excuse for Thursday...and it appears starting really is the hardest part. Once I start, I find I can pretty easily extended that time to 30 minutes or more.What I did accomplish:I'm making a queen-sized quilt for my son. It's 12 shades of gray, all squares and one gold triangle. I sewed the squares in rows randomly (only taking care to not sew two of the same color side by side, although I discovered I did that very thing along the way).
When it came time to sew the rows together, I just couldn't make myself sew them together randomly. So, I laid out all the rows in some kind of "planned random" order. It funny how being "random" left me with the same light color hitting every third spot on several rows. But, I worked it out and labeled my rows and they are now ready to be sewn together.
I completed Block 1 of my Hillside Houses wallhanging today. This first block had 37 pieces! I can't even cut out one block in 20 minutes. Fortunately, its a breeze to sew together.
This week we'll move on to Block 2 with shades of green and periwinkle.