Modern Kids Quilt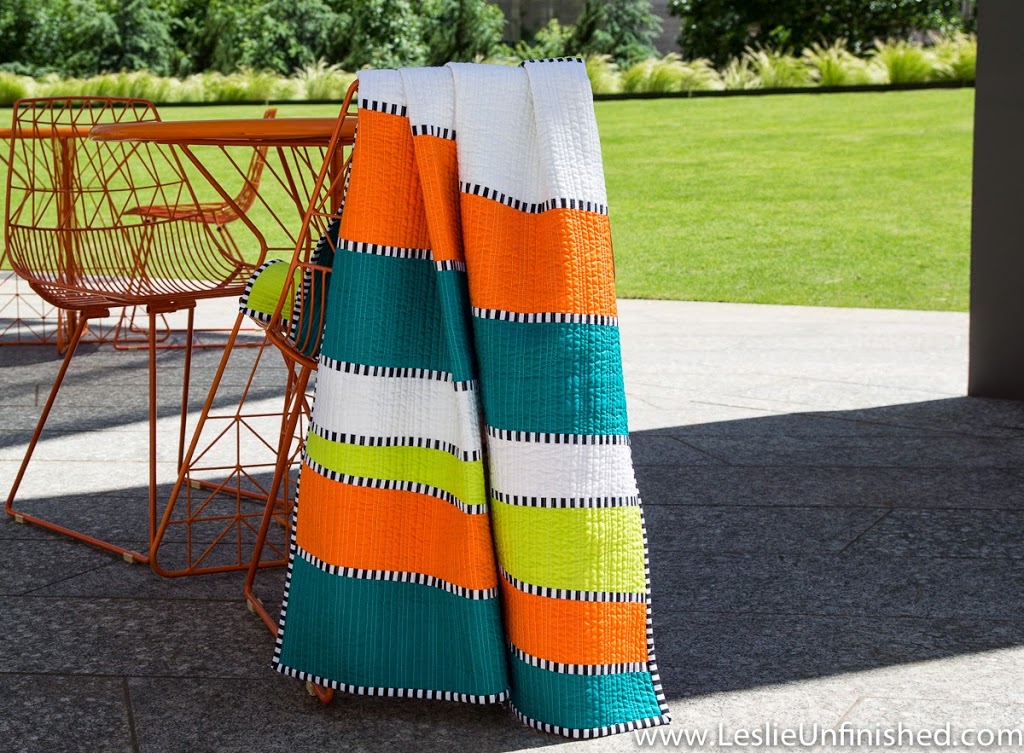 I'm in love with this little quilt. I love the bright colors with the strips of black and white striped fabric. The straight-line quilting gave it an extra soft, pliable feel that really had me thinking twice about giving it away.
I took it to work the other day to share with my co-workers and snapped a few shots of it downtown. We were lucky to finally have a day or two of sunshine between Oklahoma storms.
I cut uneven strips of color and separated them with one-quarter inch strips of black and white striped fabric. This was a test of this idea, as I am hoping to do something similar with the new quilt for my bed. I think I'll separate my rows this next time with polka-dots.
I love the back as much as the front.
My quilt guild has adopted The Anna's House Foundation as our charity and that's where this quilt is going. Anna's House is a unique network of support for families caring for children in foster care. The children often arrive with very little to nothing and the quilts they are given will be theirs to keep. I hope this one bring happiness, warmth and comfort to whoever receives it.
When speaking about charity quilts, I often hear quilters say "It's just a charity quilt" as if the workmanship or time invested doesn't need to be as high. So many times I feel that the attitude is to just 'whip something up' and not put any real time into it. When 
collecting quilts
 for the victims of the May 2013 tornadoes that came through Moore, Oklahoma, I was amazed and humbled by the workmanship of the quilts received. I think it does your own heart good to completely put yourself into something you are giving away to a stranger.
We are in the middle of tornado season here in Oklahoma and I am reminded that I should always have a quilt on hand to donate. And while I have a couple of other quilts currently in the works, I'm going to make time to prepare a quilt that I can give away should the need arise. I encourage you fellow quilters to do the same!
I'm happy to share this little quilt as part of the
Blogger's Quilt Festival
sponsored by Amy's Creative Side. Follow this link for more awesome quilts!