20 Minutes A Day: Week 1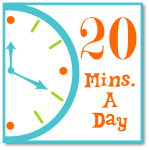 It's been the first week of my 20 Minutes A Day and I'm off to a good start. As I was telling a co-worker about the concept, I realized that I felt a happier and and a little less "work is getting in the way of my life". Which is exactly what I expected to happen.
Here are a few snapshots of my 20 minutes.
Top: Planning a quilt, cutting it Day 1 and Day 2.
Bottom left: Planning a t-shirt for Church girls camp.   
Bottom right: Playing the piano.
Here's the conversation that went down tonight:Husband:  "So, are you counting playing the piano as your 20 minutes?"Me:  "Yes."Husband:  "Hmmm..."Me:  "What? You don't think that counts?"Husband:  "You weren't doing much."Me:  "Do you think I need to play longer? I played the other day for 20 minutes but there was no one to take my picture. Don't you think playing the piano is creative?Husband:  "It's creative, but it was pretty easy."Me:  "It doesn't have to be difficult. It can be easy."Husband:  "Hmmm..."So, this begs the question: What counts as being creative? Some things are obvious, but what are some "out of the box" ways to be creative?After my husband read the post...Husband: "So am I supposed to post a comment and defend myself?"Me:  "What would be your defense?"Husband:  "I don't know. I'll have to think of one."